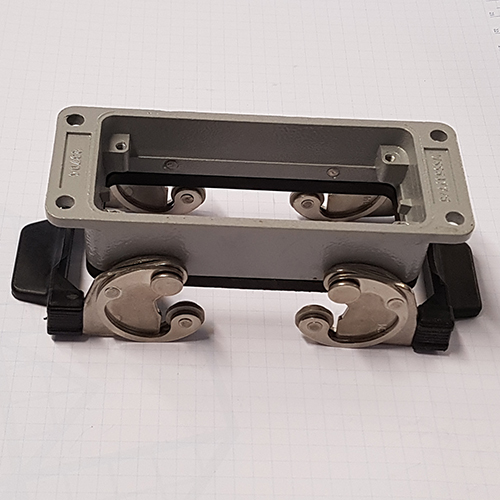 Electromechanical components
Tavola rotante, Robot, Pallettizzazione
Semi-automatic machine for the assembly of cases for electrical connectors of different shapes and modular dimensions.
The line consists of 4 machines featuring a turntable connected to one another. An operator is foreseen for the manual loading onto a pallet of a conveyor belt of the painted aluminium case and the seal in two placements side by side.
The first turntable machine, by means of cartesian axes, performs the dosage of an adhesive onto the seal and the subsequent coupling of the seal-case body. Machines 2 and 3 carry out the assembly of the right-hand lever(s) and left-hand lever(s) respectively. The levers are locked in place by means of the planetary gear of special rivets.
Machine 4 assembles the plastic handles.
The parts assembled are unloaded and positioned by an anthropomorphic robot into baskets. Once one layer of parts has been placed inside the basket, the robot will place a sheet of cardboard on top as a layer divider.