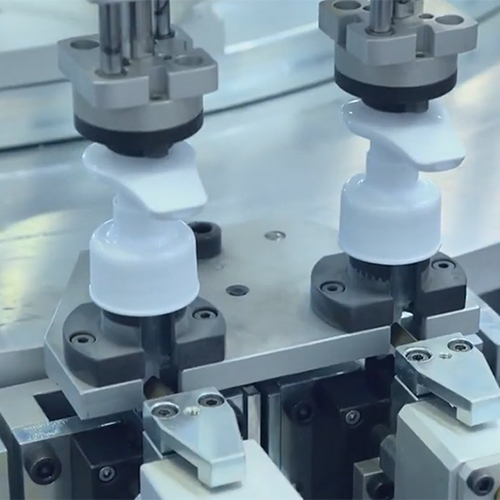 Rotary tables
The assembly line for the soap pump consists of two rotary tables with mechanical cam-controlled movements. This technology makes it possible to achieve high productivity with enormous precision, associated with lower air consumption and lower noise emission levels.
On the first machine there are 24 divisions and the pump motor is assembled. On the second table, with 16 divisions, the complete assembly of the pump takes place. The two machines are independent, but it is possible to satisfy the request for connection between the two.
Both machines have a cycle time of 1 second, with 60 strokes per minute. For each cycle two pieces are processed, so as to double the final productivity: 60*2=120 pieces/minute.
The machine produces a pump model consisting of 10 components. The variability is determined by the colours of the external components and the length of the suction pipe, which can be between 100 mm and 240 mm.
The components assembled on the first machine are: body, seal, diaphragm, pumping piston, ring nut and ball.
While on the second table are mounted: the pumping body mounted on the previous machine, cap, spring, dispenser and suction pipe.
The suction pipe is uncoiled and cut to size directly in the machine, without any need for intervention by the toolmaker, so there is no equipment change from one model to another.
Vibrating systems
All the feeding systems are made using vibrating systems. To make colour change efficient, the various feeders are equipped with rapid emptying systems, with an increasingly immediate change from one colour to another.
In the assembly process, which takes place at two pieces per second, with each piece load the presence of the same is checked and when necessary it is oriented (e.g. piston/erogator) or rotated (as in the final phase of pump closure).
At the end of assembly, the soap pump is unloaded onto the conveyor belt in an unordered and random manner. On request it is possible to integrate canning systems.
From this link you can see the video of the soap pump assembly line in operation.